Why does a customer choose one bank over the other? What makes them continue to stay on with a bank for years? And what drives them to deepen their relationship with the bank? These are some of the questions keeping bankers up at night. Attracting and retaining customers and increasing share of wallet is now more difficult than ever before, thanks to the exponential increase in competition from unexpected sources. Fintechs, tech giants, challenger banks are all vying to acquire the same customers and establish long-lasting profitable relationships with them. New technologies are disrupting the way business is done, regulatory frameworks keep changing and now there is even the consequences of a pandemic and a war to contend with. Amidst it all, customers expect hyper-personalized offerings and a value-driven engagement with their banks. Banks now need some intelligent strategies to grow their customer base and drive enduring customer loyalty to retain their competitive edge. And the answer to their questions may not require an entirely new approach – just a modern twist to an age-old practice.
Special offers, and rewards have been a part of banking strategy for decades. Banks draw on their core capabilities like deposits, withdrawals, payments to build incentives or offers that can attract customers, retain them, and even encourage cross and up-selling. And they used a basic audience segmentation strategy based on demographics like region, age, and gender to create an offer and determine its price. Incentives still hold significant value in modern banking. The only difference is that today, these are more sharply segmented than before to fit in with banking's new focus on customer centricity. Technology is of course the foundation for modern day incentive management. In fact, today banks run complex campaigns with multiple kinds of offers for varied customer segments using technology powered solutions with robust campaign and offer management capabilities.
Conceptualizing a Campaign
So, what are banking campaigns? Campaigns are an orchestrated marketing effort to attract prospects or clients and entice them to buy products, use features of a product, or use services associated with a product. A campaign can include several incentives or offers, or benefits. Banks create and execute campaigns for existing as well as prospective customers. Using a robust technology framework, banks can create campaigns for targeted customer segments and even align them to groups, relationships, and hierarchies. They can be created for new customer acquisition or to promote specific services, and for customer engagement and retention. Banks can run campaigns at the account level and even manage multiple campaigns simultaneously.
Example of campaign strategy categories: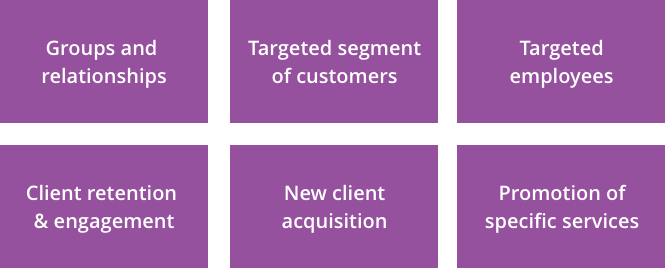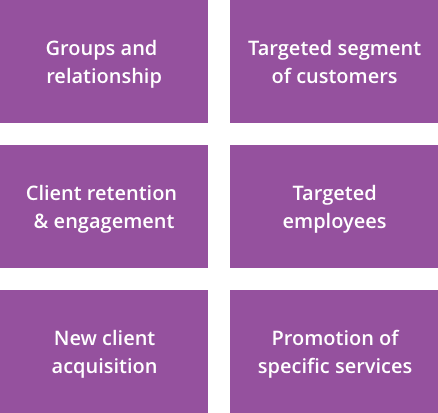 Customer Behavior-Driven Campaigns
Technology-powered campaigns are already in use at leading banks across the world. A North American banking giant works with us to run highly successful campaigns. Their campaigns are categorized in two ways. Non-stackable campaigns that provide benefits to only one account under a particular client even though multiple accounts under it are assigned to different campaigns. The second one is stackable campaigns where all accounts under a client get the benefits. The system has a multi-level approach for managing campaigns and benefits. Customers must meet certain criteria before they can be considered for a campaign, and once included, they must meet further criteria to be able to avail of the benefits. For example, high value credit card users can be targeted for a campaign, but the offer will depend on the number of transactions they make within a certain period. This ensures not only a hyper-personalized campaign strategy but also encourages behavior that will help the bank achieve a specific goal – in this instance reach a certain transaction volume. The bank runs campaigns for four specific objectives. First for acquiring new customers with offers like cash rewards or gifts like iPads or air pods. Second for retaining existing customers with offers that include cashback options or rewards. Third to reward customers for upgrading products, and under this, the offers include credit card fee waivers and rebate points. Finally, they offer special campaigns targeting people who have recently moved to the country, and the offers include monthly fee charged to the category of customers targeted and aims to reward them for desired behavior or meet specific requirements. Another South African financial institution runs a campaign for existing users that offers them price discounts and value-added services for upgrading their transactional accounts. We work with them to create product bundles, facilitate conditional selling and relationship-based pricing offers.
Campaigns with value-driven offers are a proven tactic for banks to grow and retain their customer bases, drive product adoption, and even increase revenues. With the right technology platform, banks can easily roll out effective campaigns with personalized value-driven offers that entice and engage customers. In the current market context of increased competition and disruption, banks must consider working with experienced third-party vendors who can deploy a state-of-the-art solution over their legacy core to help implement and manage new-age campaigns. The future of banking is inextricably tied in with technology, and banks must fast track their digital adoption journeys to ensure continued profitability and growth.