The New Goal Post for Digital Transformation – Customer Experience Transformation
By Binesh K, Strategy, CEO's Office, SunTec Business Solutions
The pandemic triggered a seismic shift in banking as banks accelerated their digital transformation initiatives to meet customer needs. It became all about elevating the customer experience. To move up the digital maturity curve, it is important to re-envision customer experiences and devise a strategy that is insight-driven. Banks will have to streamline their processes, leverage consumer data and optimize their communication across multiple consumer touchpoints for a consistent personalized experience.
In this on demand session, you will discover:
How to stay relevant to your customers in the new world
How to deliver exceptional customer experience
Key steps to move up the digital maturity curve
James Fowle
James Fowle is the Executive General Manager responsible for Everyday Business Banking at the Commonwealth Bank of Australia. He is responsible for supporting the full spectrum of business customers' transactional banking needs from start-up businesses to institutional customers, including product management, analytics, risk, and customer strategy. Before joining the Group in 2020, James spent 20 years in various product, transactional banking and pricing roles at FirstRand Bank, a large South African Bank.
Steven Reiter
Steven Reiter is the Lead – Business Consulting Practice for Financial Services at EY. He advises banking clients on retail, commercial and payments operating models, core technologies, application architectures, integration architectures and large-scale program execution. His domain expertise includes core banking solution evaluation, transformation and replacement, mortgage loan origination and securitization, commercial banking, treasury management and payments. With more than 40 years of experience, Steven has spent the last 20+ years assisting clients with aligning technology transformation with business initiatives.
Soneel Raj
Soneel is a 30-year veteran of the financial services industry, having served in senior operating and consulting roles across multiple geographies. His notable roles include Global Head of Strategy and Transformation for Citibank's Global Consumer Bank technology division, Head of Technology and Operations for Royal Bank of Scotland's Markets and International Banking division, Senior Advisor to McKinsey's Digital and FIG practices in Asia and Partner in Accenture's financial services/capital markets practice.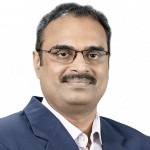 Sathish Chandran
Sathish heads the Demand Fulfilment Group at SunTec comprising Product Engineering, Delivery, Support, Product & Delivery Assurance and CoE teams. With more than 25 years of experience in the software industry and nearly 15 years in revenue management and customer experience, he ensures delivery of our solutions with the highest quality, in the shortest time possible. He manages a proactive support organization which is aligned with our clients' needs.